*I am a Ritual Ambassador and am excited to share these products with you. I may receive compensation for any purchases you make, at no additional cost to you. I only recommend what I believe in, and think you will too *
I was completely depleted.  Running on fumes. I felt as though my body was missing something vital. I mean, how could it not? I just grew two humans. I HAD to be depleted. Having two kids into years had to have done something major to my body and my brain and I desperately needed to get my health back on track. I could see it in my eyes- my whites weren't white. My skin was chronically dry, I wasn't sleeping well (aside from my two obvious reasons) and "Baby brain" plus some.
I needed to be pulled out from the fog…
After the birth of my second child, I started doing some research about postnatal depletion. I knew my body needed more nutrients. I asked my obstetrician about any vitamin recommendations and she said a regular multi-vitamin should be fine. But that didn't feel right. I don't believe supplements or nutrition is a one-size-fits-all kinda deal.
And then there they were- those shiny sparkling vitamins that have been popping up on my Facebook and Instagram feed: Ritual vitamins
So I read some more, I researched them, then I tried them…
I've seen so many articles about fillers in our vitamins, synthetics, so many unnecessary things. And as you may (or may not) know about me is that I like HEALTHY, simple, natural options whenever possible. I like giving my body what it needs, not what it doesn't. Simple enough, right?
And the coolest, trendiest, prettiest little vitamins ended up surpassing my expectations
And why is it that before conceiving they recommend you take a prenatal to make sure you have all your essential vitamins, then to continue taking a prenatal during pregnancy to make sure baby and yourself are getting more than enough vitamins, then postnatal the doctors DON'T TELL YOU TO DO ANYTHING.  I've had two different OBs, two chances to discuss my health because let's face it…if I don't care for myself I definitely can't care for my kids (as well as I'd like). You can't pour from an empty glass…amirite?!
You can't pour from an empty glass...
Click To Tweet
My body just went through massive trauma. Twice. And on top of breastfeeding for nearly 25 months combined.
Ritual vitamins are EXACTLY what I've been looking for.  Healthy, heavily researched, no fillers, and a little flashy (hey, nothin' wrong with that!) They don't give you nutrients you already get enough from your diet. And I'm sorry, but if you're living off Doritos and expecting a vitamin to make you healthy, think again. Vitamins+ a well balanced diet= road to health. They aren't a magic cure-all kinda pill.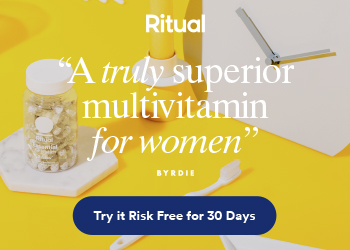 After about a week of taking Ritual vitamins I started slipping out of the "Mom Fog." I started to have some clarity, I was able to concentrate more, my skin started looking better, my energy levels started to return but it also encouraged me to jumpstart my health. New way of eating, exercising, cooking, parenting- it was the fire I needed.
First impression: They're sooo interesting to look at! Flashy, unusual and mesmerizing. Second impression, they're MINTY! They're in an easy to swallow capsule, they're backed by tons of research, there are no fillers and I feel great about what I'm putting into my body.
Ritual also informs you what is happening in your body as you take the vitamins. For example:
The first three months is for filling in the gaps
Then blood and organ health
Then bone integrity and so forth
They aren't a miracle pill, but at least you can feel good about what you're putting into your body and know you're doing something great, every day, for you and your future self.
A "Ritual of Health" if you will.
And you know what's even more amazing??
They just launched their HIGHLY ANTICIPATED PRENATAL VITAMIN! 
Anti-nausea, lemon-y goodness.
The articles and information given on this website are not intended to replace a one-on-one relationship with a qualified health care provider. They are not intended or to be interpreted as medical advice. They are more so intended in the sharing of information.
Nothing stated here should be considered as medical advice for dealing with any given problem, or to diagnose – treat – prevent – cure any disease. All information posted on this website is provided for educational purposes only. It is not to be construed as medical advice. Only a licensed medical doctor can legally offer medical advice in the United States. Consult your health care professional for individual guidance for specific health problems.
Let's Stay in Touch!
Subscribe and never miss a post